Invisalign Parramatta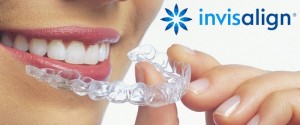 Invisalign is defined as a customized set of transparent braces that are fitted individually for each client. It makes use of a custom-made, removable, transparent contraptions or aligners that help to align teeth in order to achieve proper alignment; giving the oral cavity a more polished and healthy appearance.
How does Invisalign work?
Customized Invisalign is made first with the use of image guides that are generated by 3D computer imaging technology. The resulting appearance and fit of the finished Invisalign is where the plan of treatment starts. The imaging guides for each client visualizes the original arrangement of the teeth before installation of Invisalign, from there, your cosmetic dentist will plan your treatment and dental reconstructive regimen until the desired results are achieved.
Clear aligners will be fitted on the teeth, and these aligners are made according to the parameters set by a client's 3D imaging guide results. The clear aligners will then be worn for a couple of weeks at most and within that time, alignment and gradually movement of misaligned teeth will commence. After the first two weeks are over, the initial clear aligners will then be replaced with a new Invisalign set until such time that the desired alignment of the teeth is achieved.
How much cost would the entire treatment cover?
Each client has his own unique needs when regards to teeth alignment and everyone is subject to a different magnitude when it comes to dental treatment plans that involve Invisalign. You will want to request for a quote which you can surely get at a reasonable price only at Sydney Cosmetic Specialists. Our Parramatta Dentist  offers initial consultations that are free of charge for those who are planning to experience the Invisalign treatment.
How long will it take for the whole treatment course?
Every aspect of the treatment plan depends on the needs of every client. Bear in mind that each individual has unique needs and that teeth alignment for each client is addressed individually. Usually, a treatment plan may take at least six months to two years. The average time for a full Invisalign treatment can take a maximum of 12-14 months at most.
What is the schedule for appointment for the whole treatment?
A regular schedule of appointment for one treatment is usually six weeks apart. Your Invisalign will be examined periodically in order to assess the latest condition of your alignment.
Can anyone get an Invisalign treatment?
The best thing that you can do in order to determine whether you can be a good candidate for Invisalign treatment would be to get in touch with us at cosmetic dentist in Parramatta. Your first consultation shall be free of charge, as what we offer to our new clients.