Crown and Bridgework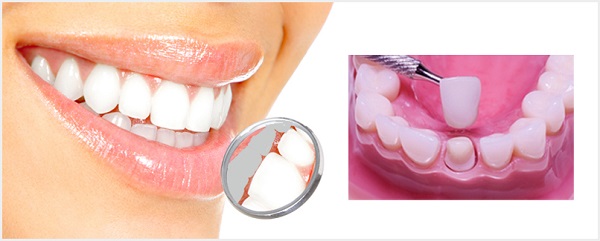 If you are in need of dental repair or a full restorative treatment of broken, missing, or decayed teeth, realign a crown that's misshapen, or restore the healthy whiteness of your teeth after years of consuming coffee and nicotine, a dental crown may be prescribed for you in order to remedy all of these problems. Installation of a dental crown is a safe, effective, and a lasting solution to missing teeth, dental deformities, and cavities as well.
Basically, a tooth crown will be fitted individually atop the real, yet damaged tooth. This will help to restore the healthy appearance of your teeth and strengthen the integrity of your oral cavity. It gives a more natural appearance to your teeth once it is fitted for good. Dr Potres at Sydney Cosmetic Specialists use the highest quality products and equipment in order to deliver the best possible results.
All-Ceramic or Porcelain Crowns
Dental crowns that are made of porcelain are considered the best material which is used by dental professionals since it resembles the color and texture of natural teeth enamel. High quality porcelain is utilized for the dental implants as they resemble the natural feel and texture of actual teeth. Every crown is custom-made in order to suit the unique needs and comfort preferences of each individual.
Crowns of ceramic-metal origin
Ceramic-metal crowns are a bit different in comparison to the ones that are made of porcelain because they have a more lasting quality with the infused metal in the crowns. Dr. Potres will assess you and design the best course of action to suit your unique dental needs.
Installation of dental crowns
Our specialist dentist will thoroughly examine your mouth and teeth, take diagnostic photographs and X-ray images of your teeth, this way you will be assessed for the presence of dental decay, dental infections and any existing occlusal issues. Treatment options will be discussed and the concerned tooth will then be prepared for the crown installation, after tooth preparation a customised impression will be taken of the concerned tooth and also the rest of your teeth.
This impression with other complete prescription of the required shape, size and colour of the new crown will be sent to our professional dental laboratory. To guarantee the quality of the ceramic work and crowns, we only use professionally-trained dental ceramists who are located in Australia so that we can have one to one contact with the ceramist and ensure our clients receive the best treatment outcomes.
There are times when tooth extraction may be necessary in order to achieve a better overall result. This will be assessed thoroughly and discussed with you to ensure you will be fully informed with the possible treatment options. In the case of the need for extraction due to extensive decay or tooth fracture, a temporary replacement for your missing tooth is possible using a temporary bridge, which will be installed temporarily to replace your missing tooth. The prosthesis will be removed when your crown or bridge is ready for permanent installation.
Why should I for a dental crown?
The following are some of the benefits of having a dental crown and the reasons why it is a wise idea to have one installed for your total safety and comfort. Having dental crowns is more than just covering up missing or damaged teeth.
Dental crowns are manufactured to top off a dental implant

Conceals unsightly dental discoloration

Safely anchor dental bridges

Restorative measure to bring back the healthy appearance of worn or discolored teeth

Stop progressive damage brought about by tooth decay or trauma to the oral cavity
The Basics of the Fixed Bridge Dental Prosthetic
Dental bridges that are of fixed nature are manufactured to replace real, missing teeth. They resemble the natural appearance and integrity of real enamel and dentine and they are installed in between crowns in order to fill in for the damaged or missing tooth. The porcelain crowns will then be anchored securely in place adjacent to your real teeth, this will hold the new dental bridge properly and safely. To ensure secure anchorage, dental bridges are cemented in the tooth enamel, which explains why these bridges are held permanently and cannot be removed at all. Aside from being a permanent solution to missing teeth, dental bridges are also comfortable to wear, very functional, and are safer than removable dentures.
The anatomy of the dental bridge
In general, dental bridges are termed as prosthetic replacements for natural teeth. A healthier condition of the surrounding undamaged teeth is necessary for the installation of bridges. The fixed dental bridge is of course termed as the most common type of dental prosthetic since you will need to keep the surrounding teeth strong and of the best integrity in order to be fitted with bridges.
What are the functions of the dental bridge?
It basically provides a good replacement for the missing teeth. It provides a stronger foundation for the adjacent healthier and undamaged teeth so that they could provide a better anchorage for the installation of dental crowns later on.